Announcements : Passport Acceptance Fair
Announcement: Passport Acceptance Fair
Event Date: 01/30/2020
Need a passport? Let us make it easy for you at the Passport Acceptance Fair.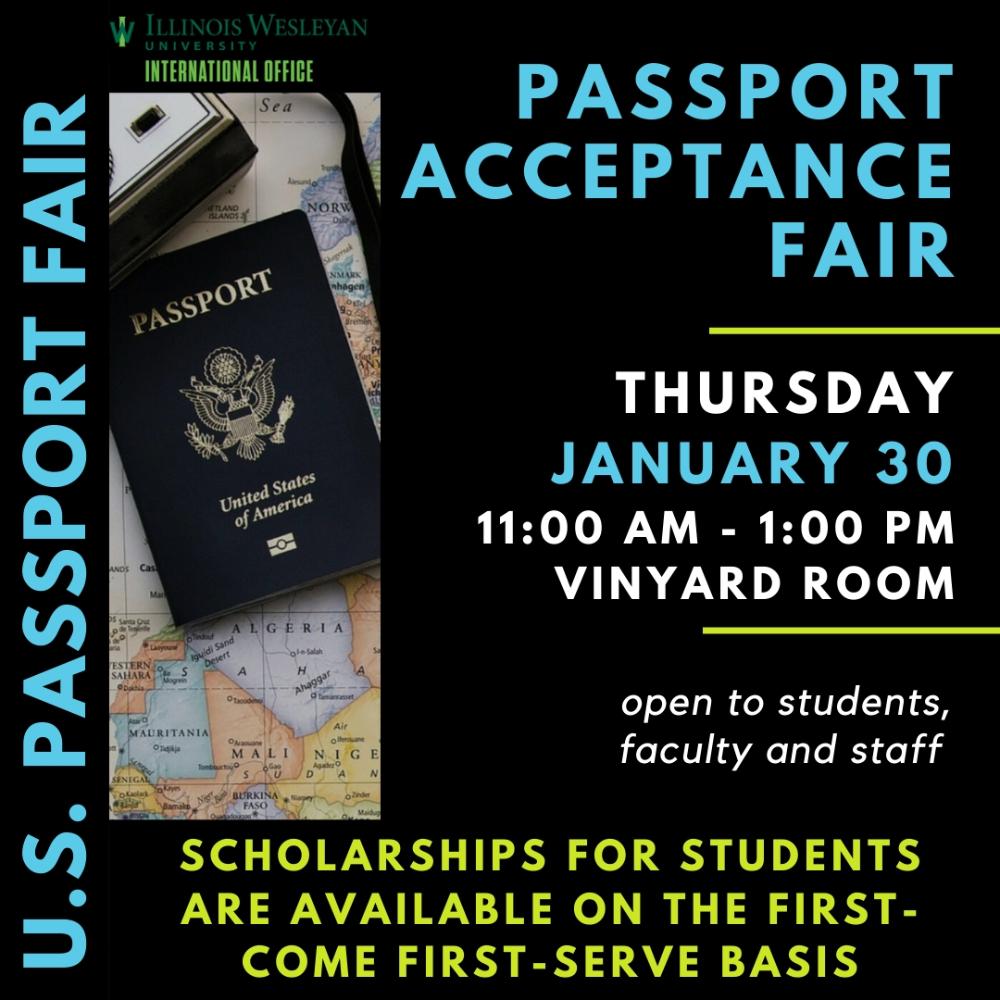 GOT PASSPORT?
Exciting news!
Passport Acceptance Day *
is coming to Illinois Wesleyan University on Thursday, January 30th, from 11:00 am to 1:00 pm. Location: Vinyard Room (formerly Davidson Room).

Please complete the following steps. To apply for a passport, it is very important that you follow the instructions detailed below, and prepare in advance.

* NOTE: Coming to the Passport Fair does not mean you will get your passport the same day. Passport processing time is 6-8 weeks, including mailing time.
Funding for student application fees are available on the first-come first-serve basis **
** Contact Stacey Shimizu

sshimizu@iwu.edu

for more information.
---
STEP BY STEP HOW TO PREPARE FOR THE FAIR:
1. Sign up for a pre-event document check with one of the designated reviewers on campus. Please pick one of the appointment time slots through the

SignUpGenius link

and add it to your calendar.

2. Ensure that the following documents are in your possession and ready to be presented at the time of your document check. NOTE: There are no exceptions to what is detailed here. Everything must be completed as described, and each item is required. For more information, visit the

U.S. State Department website

.
FULL LIST of required

passport documents

Completed Passport Application Form DS-11 – UNSIGNED. You can use an

online Application Form

or

download the form

and complete it by hand. For the

online form

, follow the link, accept the terms and click "Submit". On the next page, click "Fill Out Online and Print." For the hard copy version of the form, be sure to use black ink when completing it. Do not sign the completed form. It must be signed in the presence of a Passport Agent at the PASSPORT ACCEPTANCE FAIR. If you are planning to renew your passport, detailed instructions can be found

here

.

Passport Photo. IMPORTANT: This must be an official passport photo. Photos made at home or cut from previous pictures will not be accepted. Official passport photos can be obtained at WALGREENS on Main Street and cost $14.99 for a set of two.
3. Be prepared to pay the required application fee at the PASSPORT ACCEPTANCE FAIR. The fee for first-time applicants is $145 for a passport book (two checks, one for $110 and one for $35); passport renewals cost $110. For students who receive funding to cover the application, IWU will pay only for the passport book and we will have the checks ready to attach to your application at the fair.

Application Fee and any Additional Services Fees:
Checks (personal, certified, cashier's, traveler's) and money orders payable to "U.S. Department of State"

Credit and debit cards CANNOT be accepted
$35 Execution (Acceptance) Fee Paid Separately:
Checks (personal, certified, cashier's, traveler's) and money orders payable to "U.S. Department of State"

Credit, debit cards, and cash CANNOT be accepted
---
Once you have compiled all of the required items, bring all of them to your pre-event document check appointment. At that time, we will check your application to make sure it is complete and complies with the government's guidelines. This will also provide an opportunity for you to ask any questions you might have about the passport application process or about the Passport Acceptance Fair.